Styles of Pottery

We do a wide variety of pottery types all in the southern tradition of excellence. We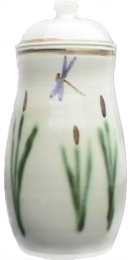 do everything from intricate one of a kind artwork piece to the everyday mug. All are done with careful attention to fine southern craftsmanship and pride in our work. Our goal is to give you, our customer, the finest in southern pottery.
Our main style is a functional stoneware enhanced with a classic grape motif. We also offer a line of one of a kind slip decorated pottery with a cattail and dragonfly theme.
In the near future we also hope to add a line of Raku fired art pottery.
Click to view our Pottery for Sale